Beverley has a responsive and experiential approach to art which, together with her abstract expressionism, creates a collection of individually unique works. Her paintings are related as a whole, not only by their acrylic medium, but by a layered and highly developed sense of colour, form and line - the interwoven relationships of which have been mastered during her now forty years of brushwork.
Buy Paintings Online
I have now begun to list selected paintings with "Bluethumb" online art marketing. Click the following link to see:
Beverley on Bluethumb
Exhibitions and News
On a recent walk through the bush that runs along the river near my home, I encountered a pair of Pheasant Coucals timidly peeping through the foliage of a close shrub. Their camouflage was so successful I almost missed seeing them and my attention was drawn only by movement as they attempted to withdraw further from my view. See the painting placed near the beginning of my web slide show. Buy it through Bluethumb.
First Prize was awarded to me by judge Frances McKennariey in the recent RQAS Petrie Terrace Gallery "Elegant Chaos" Still Life Exhibition for my painting "Pair with Pear". An image of this painting appears in the slide show on the Home Page of my website and can be purchased through Bluethumb.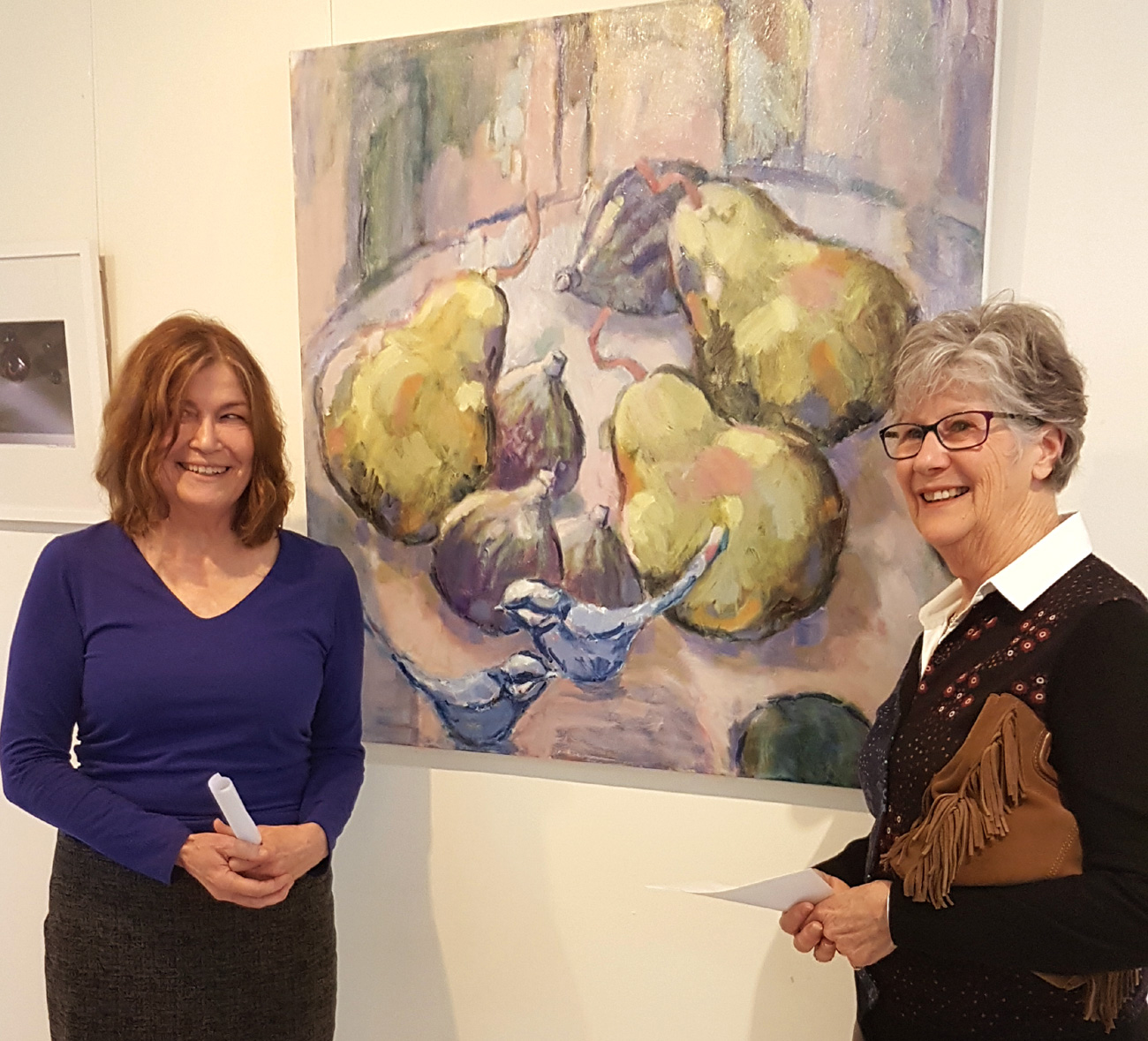 Frances and Beverley with Pair with Pear
Another recent painting in the slide show "Silvers of the Moonlight" received a Highly Commended Award from judge Leigh Camilleri in the recent RQAS Abstraction Exhibition.
Paintings displayed on my website and measuring 98cm x 98cm, are in the price range of $2,500 to $2,995. Smaller works carry lower prices and larger works are priced accordingly. Please use the Contact Page on this website to provide your email address thus allowing me to open a conversation with you about prices for specific paintings and/or to keep you informed of new initiatives. If you live in or are visiting Brisbane, you could email me to make an appointment to view paintings that are of particular interest to you.
In 2017, I received two "Highly Commended" awards and a "People's Choice" award in exhibitions at the Royal Queensland Art Society, and judge, Richard Blundell, made the following comments on one of these works titled "September": "Spontaneous and painterly approach to landscape with the sense of immediacy and urgent mark making... this work carries the power of the artist 'breaking open' the structure and significant forms of the landscape. I am moved by the raw mark making."
In 2013, I received the Christian Thomsen Award for Painting (Judge: Julie Ewington, QAGOMA) at the Rio Tinto Alcan Martin Hanson Memorial Art Awards, Gladstone Regional Gallery.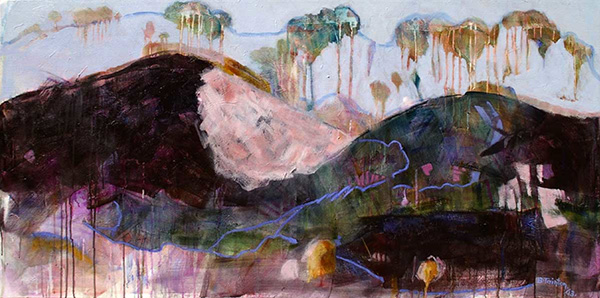 Bitter Sweet 75cm x 153cm Christian Thomsen Award 2013 (NFS)
I run fortnightly acrylic painting classes in my home studio at Westlake, Brisbane on alternate Fridays and Saturdays. My charge is $35 for a session running from 9.30am to 1.00pm. At present, a limited number of vacancies exist and I would welcome enquiries using the form on the Contact tab of this website.
The 2019 Autumn Edition of ART EDIT, p196, features a Design Council article on one of my paintings, "Where the Moss Grows".
BRETT: "Gazing into the layers of colour and pattern in this work you have the impression of looking into the depths of a forest. Although predominantly abstract, it acts like a landscape, opening a window into the space in which it hangs. To contrast the cool tones, I would hang it in a space with terracotta-coloured walls and a polished concrete floor. I would add a couple of Minotti Cortina armchairs in grey leather and a large, curved custom sofa upholstered in deep blue mohair. Flanking the sofa would be wenge timber tables with contemporary terracotta table lamps."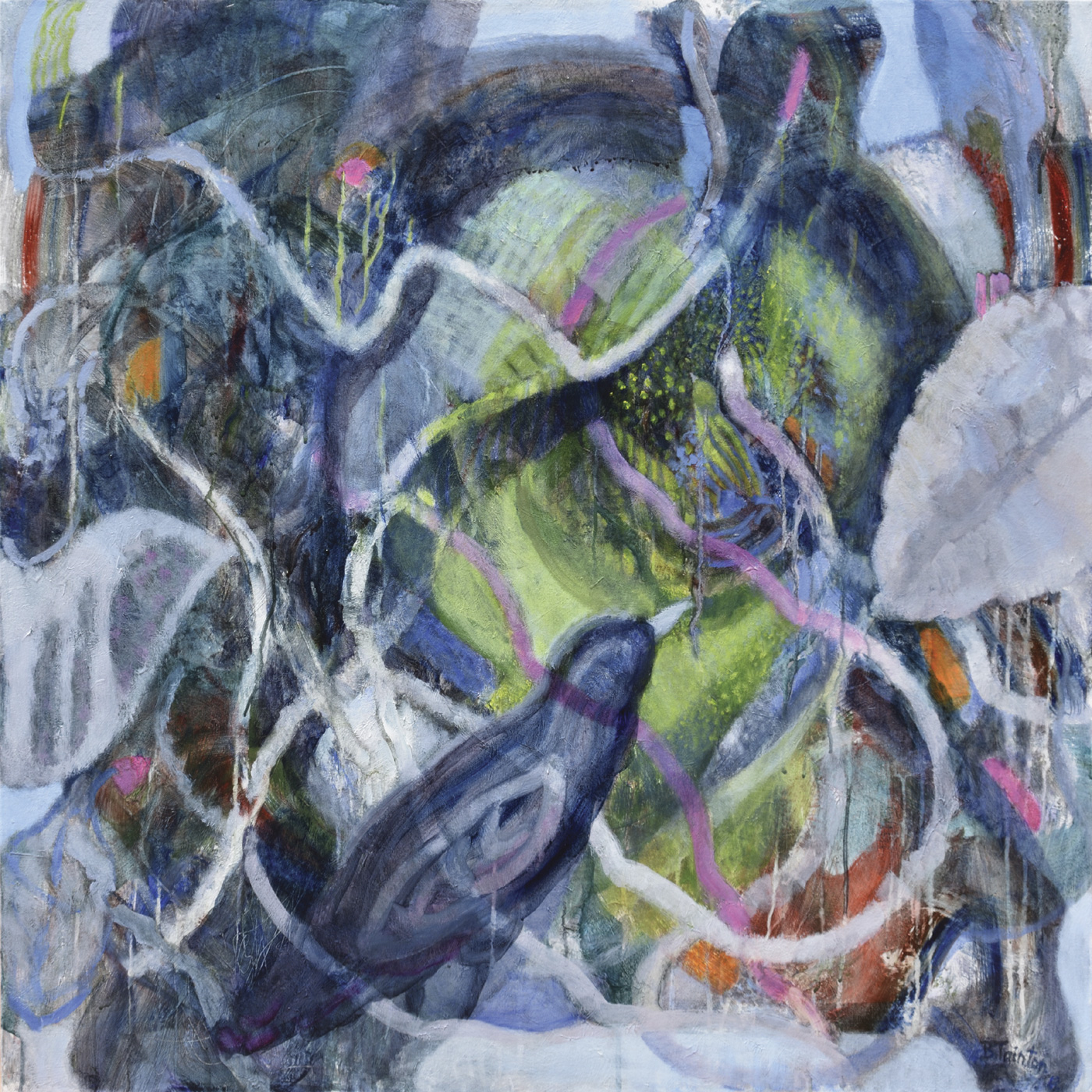 Where the Moss Grows, Acrylic on canvas, 98x98cm
The 2017 Autumn Edition of ART EDIT, p119, contained a Gallery Panel review of one of my paintings "Catching the Moon". Gallerists who have commented are: Ralph Hobbs, Director at Nanda/Hobbs Contemporary; Peter Aitken, Director at Wentworth Galleries; and Susan Gibson, Gallery Owner at Cambridge Studio Gallery.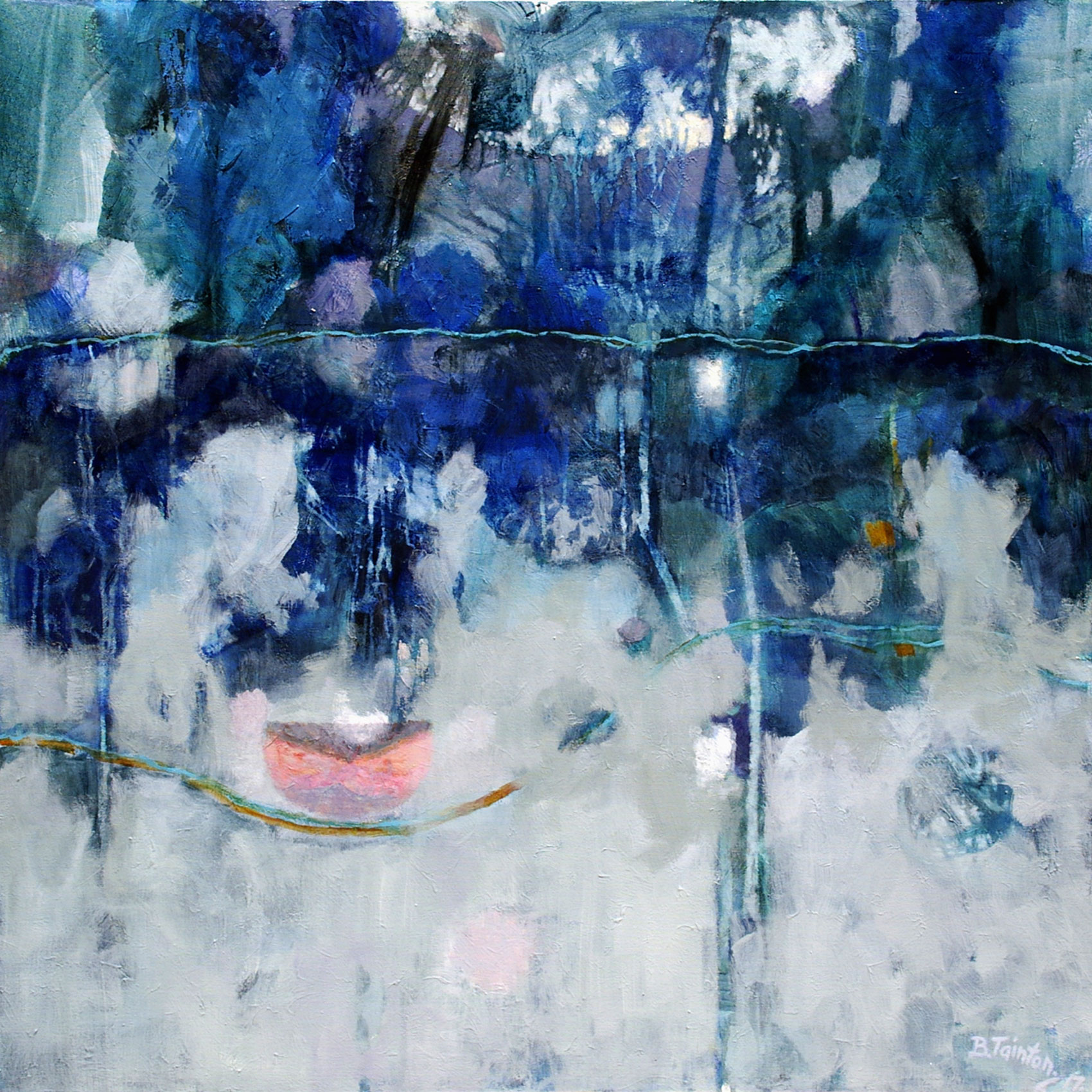 Catching the Moon, Acrylic on canvas, 98x98cm (SOLD)
"Tainton's Catching the Moon, is a painting with many romantic connotations. It has a lightness that captures the landscape in moonlight with a dynamic yet haunting sense of midnight stillness. The layering of tone and colour coupled with a sensitivity of line is very effective. The little dots of orange and the boat-like form float in the foreground giving a strength of composition to the painting without adding weight that would affect the overall light feel of the painting. It is a great size to fill its own wall space or work in with similar sized pieces in a collection."
Ralph Hobbs, Director at Nanda\Hobbs Contemporary
Professor Mostyn Bramley-More, Professor of Fine Art at Griffith University, has recognised my work with a prize in the May 2016 Abstract Exhibition organised by the Royal Queensland Art Society.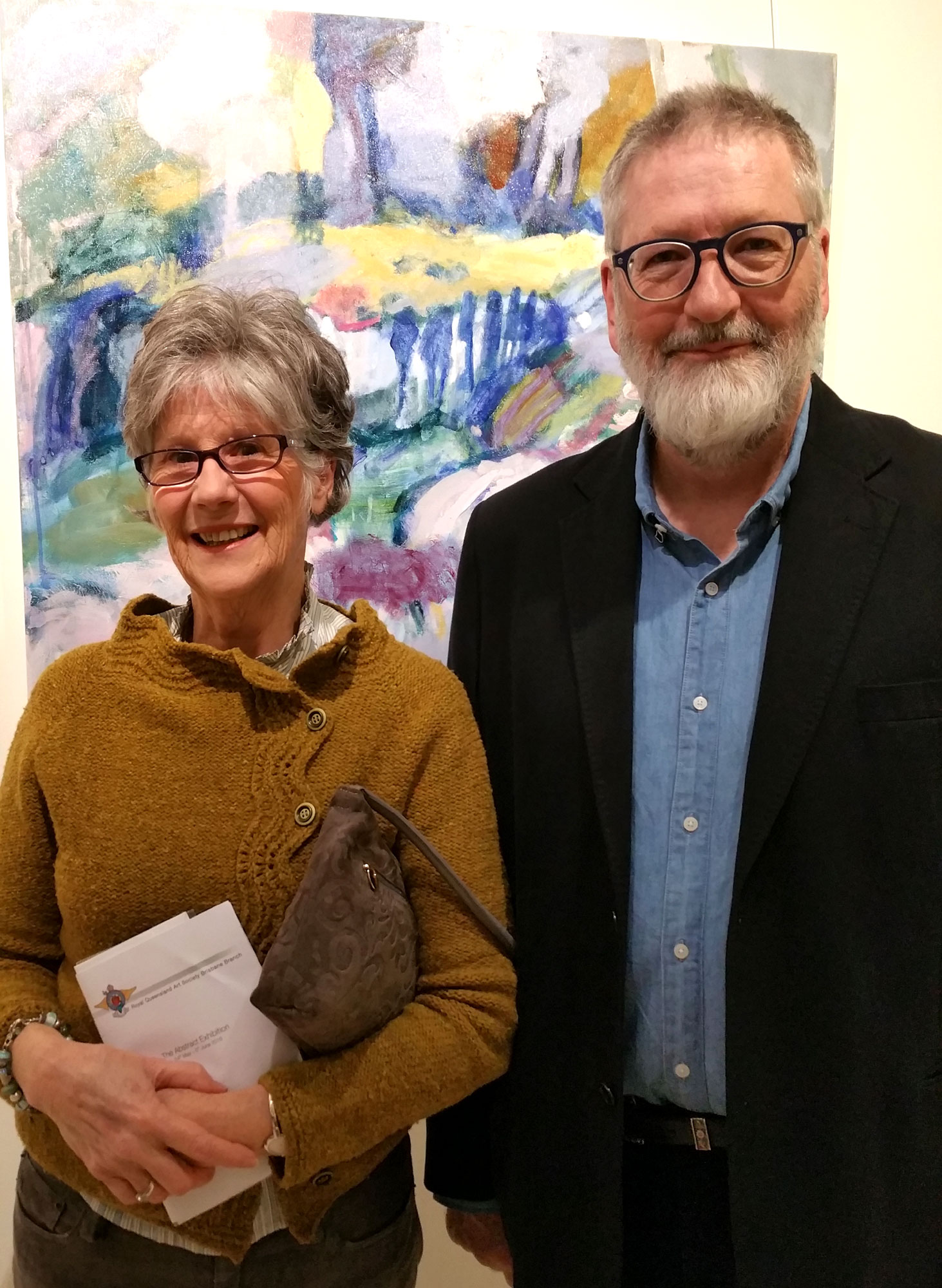 Beverley with Professor Bramley-Moore - her painting in background
Emotionally charged landscapes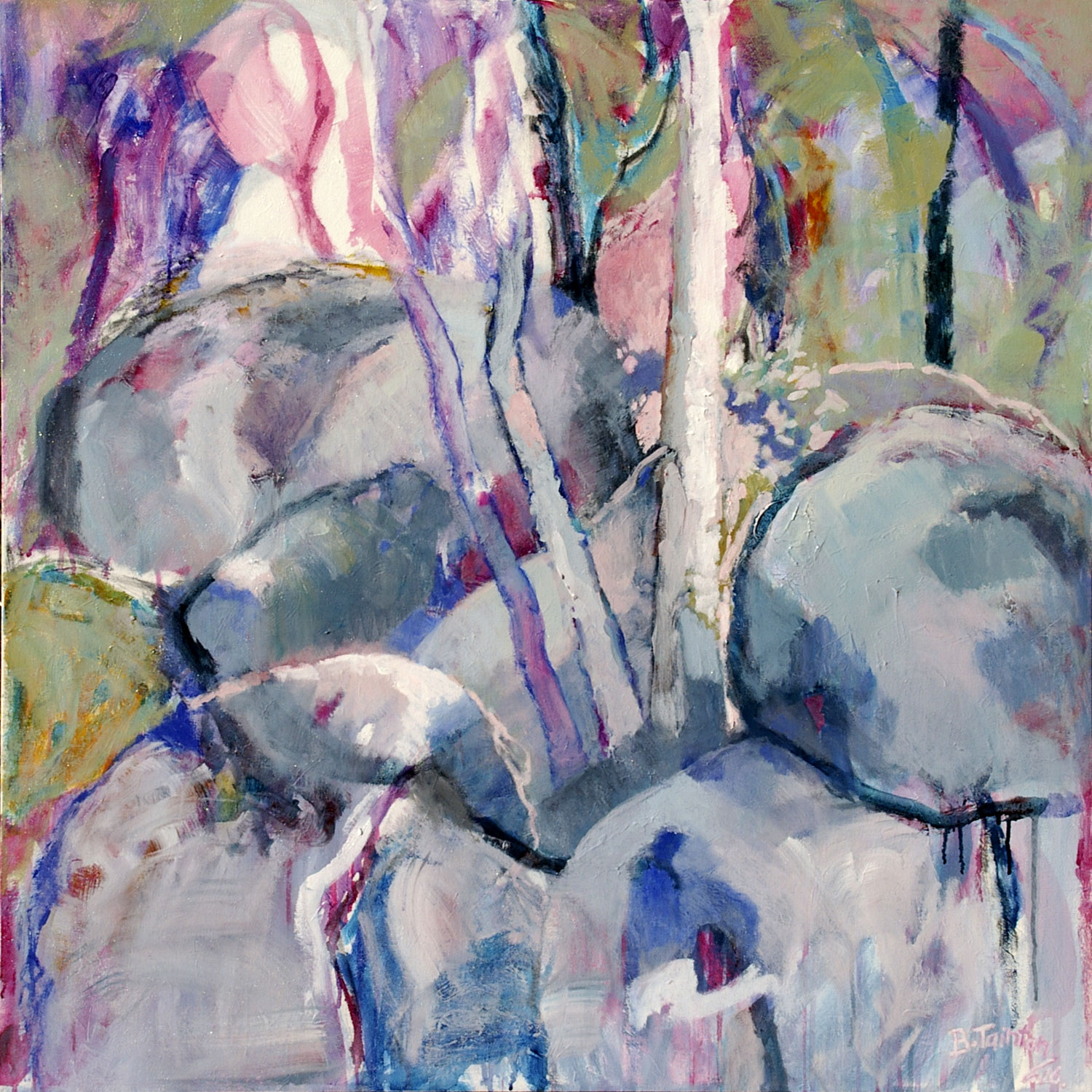 Girraween Spring 98cm x 98cm (SOLD)
Beverley regularly travels in eastern Australia and particularly loves the Darling Downs and Granite Belt in southern Queensland and the Hunter Valley region in New South Wales. It's the changing seasons and palette of colours that draws her and inspires the beauty and joy in her art.
A selection of my work is available through:
Tusk Gallery, 2/438 Mt Dandenong Rd, Kilsyth, Vic, 3137
P: 04 25774415 (Gary Collier)