Newspaper article by Fiona Purdon published in Sunday Mail - March 15, 2015.
By FIONA PURDON
Brisbane artist Beverley Tainton is interested in the instinctive emotional connections with the surrounding world rather than capturing a photographic reality.
So when Tainton read the powerful story about Sydney art identity Wendy Whiteley transforming a piece of derelict and rubbish-filled land, owned by NSW Rail, into a botanical haven in memory of her ex-husband Brett (1939-1992) and her daughter Arkie (1964-2001), the painter, from Westlake, on Brisbane's southside, was moved.
"Wendy made something so beautiful from wasteland," Tainton says. "She was so depressed after Brett and Arkie died and had trouble coping after their passing. To help her with her depression, she started digging and weeding this site and then people came to help and they ended up clearing all the rubbish and debris."
Tainton was so inspired by the story, detailed in Janet Hawley's book "Artists in Conversation", that within a week of finishing it, she visited the garden at Sydney's Lavender Bay in late-2013
She felt such a strong affinity with the "luscious and magical garden" that she painted three works, including a dreamscape involving Wendy Whiteley, as well as a harbour view from the horticultural sanctuary, as part of a 43-work solo show "Connections" at Hervey Bay Regional Gallery.
"I wanted to go there and experience it myself and I also went to The Brett Whiteley (Studio) Art Gallery at Surry Hills. I had spent a couple of weeks saturating myself with reading about Brett Whiteley's life and work so I could really experience things first-hand," Tainton says. She took photographs of the garden, but did not rely on them for her works.
"Photos are only a reference. I like to use my imagination and to let ideas evolve. I need to experience things. I want people to see and feel emotion in my paintings."
Two of the works feature Wendy Whiteley in the garden, including "Wendy's Lavender Bay Dream", a bewitching romantic vision referencing Wendy's inspired achievement of working through grief by using an abandoned rubbish site to create an oasis of beauty and hope.
But what often surprises people is that Tainton doesn't bring a sketch pad with her. Instead she takes a notepad and pen and writes down cues to work from later.
"I elongated Wendy because that's how I imagined her ... I kept laying on more glazes and opaque layers so the painting has a transparent quality," Tainton says.
She has been inspired by the work of Charles Blackman, John Olsen, Margaret Olley and Whiteley for this show. Tainton paints with acrylics and uses various thicknesses of paint and texture to evoke emotion, often exposing underlying transparent layers in some areas.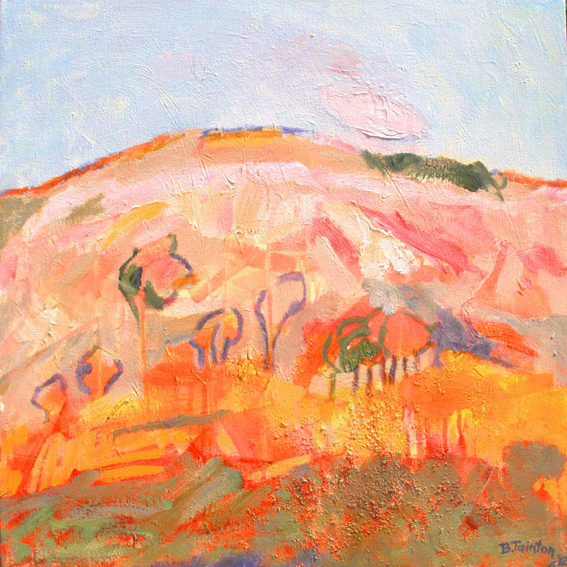 Pink Cloud Over Golden Field
The grandmother of three likes to imagine patterns and rhythms in nature, and uses colour and form to express her feelings by building mindscapes from her visual experiences and then creating an abstract response with recognisable natural features.
An example is "Pink Cloud Over Golden Field", which she painted after grabbing a fleeting glimpse of a golden hillock covered with canola plants between Toowoomba and Warwick and felt an immediate connection.
"The image remained imprinted in my mind and back in my studio 'the pink cloud' idea came to fruition as I grappled with a gut feeling that I needed to connect land and sky," says Tainton, who had taken a sketch in fine black pen while her husband John was driving.
"I make these quick little sketches and write copious notes and then paint using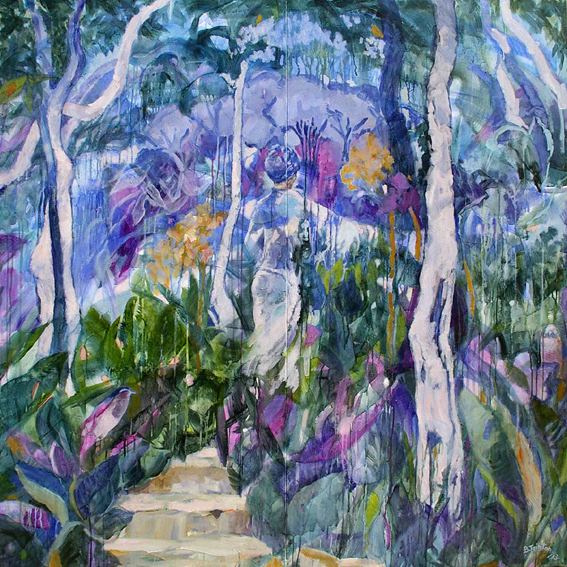 Wendy's Lavender Bay Dream
my imagination with ideas building up over six weeks. I wanted to use the rich dark soil that I saw around Warwick."
Tainton, who has been exhibiting for 38 years and started painting as a child, is excited about her first regional solo exhibition.
While visiting Hervey Bay she was inspired by the view of yachts and their masts from her apartment room and created the work "Whale Bay Marina".